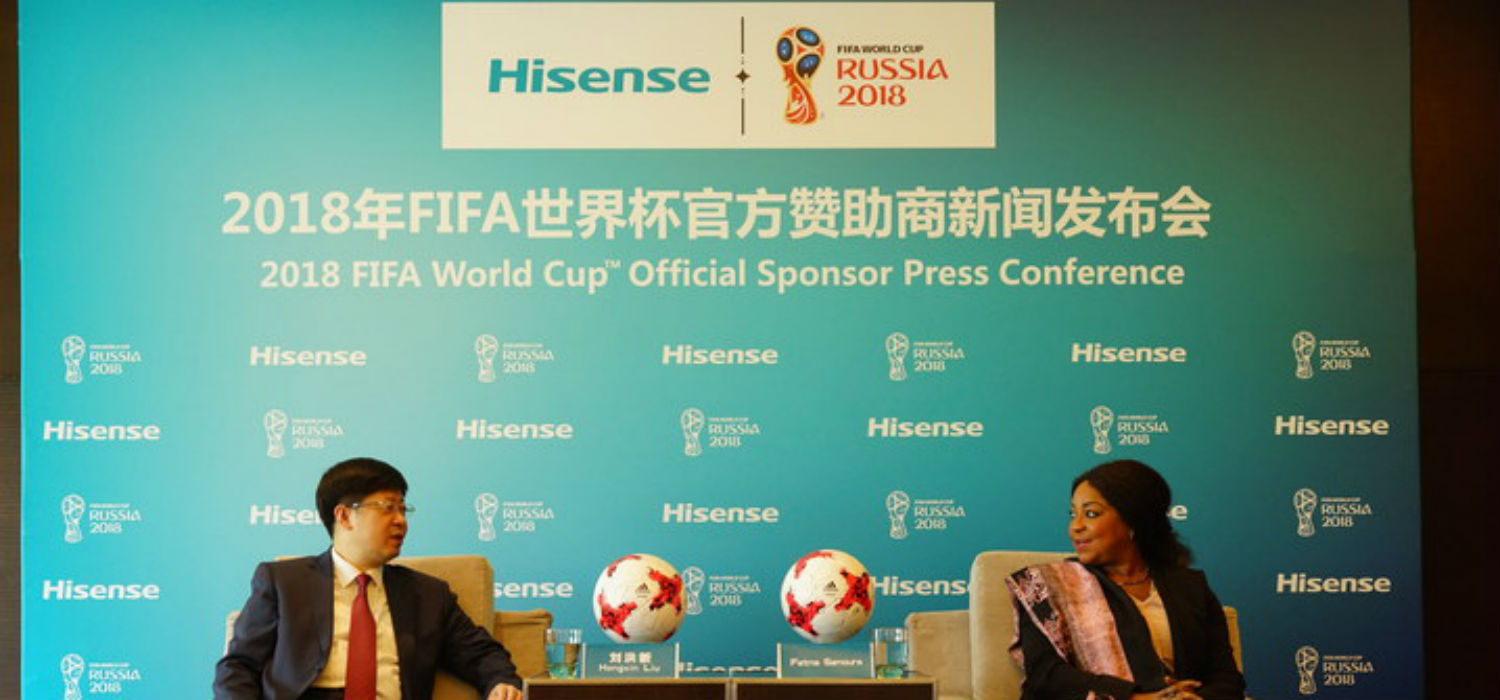 In Beijing, Hisense announced its status as an official sponsor of the 2018 FIFA World Cup.
As an Official FIFA World Cup sponsor, Hisense will engage in an array of global marketing and advertising activities for both the 2017 Confederations Cup and 2018 FIFA World Cup, reaching more than 200 territories in the process and greatly enhancing international exposure for the brand.
The electronics manufacturer will be able to associate its logo with the forthcoming FIFA events mentioned above, as well as numerous other rights that include access to advertising boards in stadiums, on-screen credits and other various creative marketing opportunities on-and-off the pitch during the events.
Hongxin Liu, president of Hisense Group, said sponsoring the prestigious tournament serves as a crucial, strategic initiative for the entire enterprise.
"We are honored to take on our biggest challenge yet with the FIFA 2018 World Cup, and believe it will vastly improve global awareness and economic value for Hisense as a truly international brand. The World Cup brings together the highest level of competition and prestige in football worldwide, making it the perfect platform for us to be a part of," said Liu.
Additionally, Hisense will offer its technical expertise and products throughout the 2018 FIFA World Cup while also engaging in a joint R&D initiative with FIFA to further push the boundaries of display technology.
FIFA secretary general, Fatma Samoura said, "FIFA is delighted to welcome Hisense on board as an official sponsor of the 2018 FIFA World Cup Russia. We look forward to working with them to promote the competition, particularly in China, where the company is a market leader in consumer electronics, and where the popularity of football continues to grow."
A large part of Hisense's international strategy has been to actively engage in sports marketing to raise brand awareness. Over the years, the electronics manufacturer has sponsored major sporting events and team sponsorships like UEFA's Euro 2016, Nascar's XFINITY series, Joe Gibbs Racing, the Australian Open, and Germany's FC Schalke 04.
These activities, coupled with its innovative high-value products, have helped the brand maintain its status as the NO.3 television manufacturer worldwide into 2017.
FIFA now has 10 World Cup sponsors, with new deals all coming from China and Russia. There are still 24 vacancies in a marketing plan that includes a new third-tier category giving sponsors only regional rights. Five major sponsors failed to renew with FIFA after the 2014 World Cup, including top-tier electronics backer Sony.
FIFA marketing officials have acknowledged that potential deals have been affected by American and Swiss federal investigations of corruption in international soccer which were revealed in May 2015.
It's been more than a year since FIFA landed a global top-tier sponsor for the World Cup, which is budgeted to earn more than $5 billion. In March 2016, Chinese property and cinema giant Wanda Group signed a four-tournament deal through 2030.
The previous new sponsor signed in September 2013 when Russian energy giant Gazprom signed up for the 2014 and 2018 World Cups. FIFA currently has six top-tier "partners," with scope to add two more ahead of the kickoff in Russia in 14 months. Hisense joins Budweiser and McDonalds in the second-tier "sponsor" category, which has between three and five vacancies.
In the new 20-slot regional tier, only Alfa Bank of Russia has signed to a program created by marketing executives hired under former President Sepp Blatter and who left FIFA since Gianni Infantino was elected last year. FIFA is looking for three more regional deals for Europe, plus four each in Africa and the Middle East, Asia, North America and South America. The shortfall of sponsors contributed to a $122 million loss in 2015, according to the last annual accounts published by FIFA.
The 2017 FIFA Confederations Cup will be held in Russia, from 17 June to 2 July 2017, while the 2018 FIFA World Cup will take place from 14 June to 15 July 2018 in 11 host cities across Russia with a total of 64 games.